Customisation Service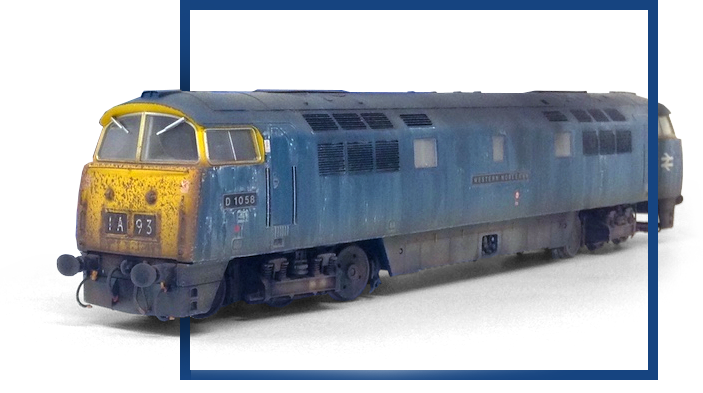 Customisation Service
Our aim is to attain a professional finish on every occasion, something we have done since 1998.
Huge range of customisation options including:
For prices view product listings or view the send your models section where prices are calculated live as you build your specification.
01.

Buy ready customised from us

You can purchase ready customised models from our extensive range, we stock the full Hornby, Bachmann and Graham Farish ranges in weathered condition. As well as an increasing range of Dapol Heljan and other brands. These ready customised models are in stock, weathered as seen in the pictures and available for next day delivery. As these models are done in batches we can offer them to you at reduced prices so they often work out better value for money than starting with a pristine model.
02.

Start from pristine

Choose the model you are interested in, then simply select the customisation options you desire and get a model exactly the way you like it.

When you have built your specification, add the product to basket and continue shopping. Once you have finished head to the checkout to complete your purchase.

If weathering isn't for you, why not look at our High Gloss Finish? This is perfect for an ex works look and can even be part weathered part glossed for an unusual stand out finish. You can now also Pre-Order any forthcoming release from any manufacturers we stock. View their estimated arrival times and even give us your customisation specification so we can carry out the work as soon as it becomes available.

As soon as your order is received we will carry out the chosen work. Please CLICK HERE for our current lead time for customisation work.
03.

Send your models to us

Already got a model that needs customising? Don't worry we're more than happy to do those too. Once you have selected a model from your collection you would like customising, all you need to do is follow our simple process by clicking here. This step by step guide will take you through our customisation options and get your models safely into the hands of one of our experts.
04.

Weathering service

VALUE is a light to medium weathering, or lighter if more historically accurate, typically using two colours.

STANDARD you can choose from light, medium or heavy weathering using more colours and showing more detail than value weathering.

DELUXE uses various techniques and as many colours as necessary to interpret dirt, rust, grime, soot, water, limescale, oil deposits and much more. Pictures can be supplied to guide our technicians to your exact specification.

GRAFFITI we're now offering graffiti on custom finished models as well as making the service available for customer supplied orders. All of our graffiti is completely bespoke and created by hand, no transfers are used which makes the quality our team achieves even more impressive!
05.

Renumbering & Renaming Service

We offer a wide range of renaming and renumbering options. Use this service to acquire all your favourite engines, with the names and numbers you desire. Perhaps you remember seeing the model in real life, or even want to create a fictitious model named after yourself!

We ensure the correct sizing of numbers and nameplates, and that the style and shade of lettering is correct. The use of high quality etched nameplates (where possible), crests and headboards also helps us achieve a quality factory finish. We ensure all transfers and etchings are designed to the correct specification and measurements in accordance with actual photographs of the real thing.
06.

DCC & DCC sound fitting service

We offer a comprehensive DCC and DCC Sound fitting service, choose from one of our many suppliers. This means you don't just have to choose from one small range of sounds, we can get hold of the most realistic sounds on the market for you, choose from;
YouChoos
LegomanBiffo
Howes
Digitrains
Southwest Digital (SWD)
Mr Soundguy
Locomansounds
Simply visit the supplier website, see which sound you prefer by listening to their demonstration videos, and one of our experts will source and fit it for you. Our sound is professionally installed in house by our technicians, including syncing chuff rates to wheel revolutions and setting up speed curves etc. At the same time you can choose from any of our other customisation options and get a fully customised exhibition standard engine delivered to your door.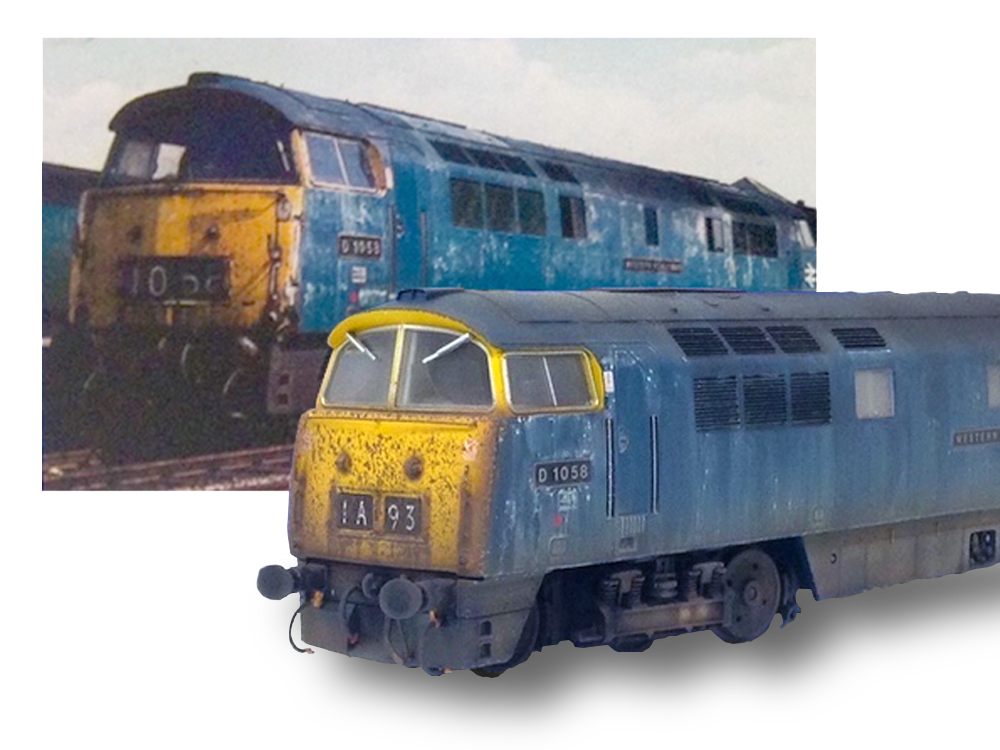 07.

Finishing Touches

There is no doubt that weathering your models helps to create realism, but there is no limit as to how detailed you want to make your TMC custom finished models.

We have many optional extras for you to choose from take a look at the list below:
DCC & DCC sound fitting service
Screw link couplings
Shed code changes
Crest changes
Gloss finish
Cab crew
Fire irons
Real coal
Cab tarpaulin
Fit parts pack
Lamps
Tool carrier
For prices view product listings or view the send your models section below where prices are calculated live as you build your specification.
Customise

Send us your model

Choose from the list of customisable options below to get your model customised by the team here at TMC.

Choose from the options below:
Customise

A new purchase

Browse our huge selection of stock at highly competitive prices and on products with customisable options you will be able to add these options before adding to the basket.

Shop all or choose your preferred gauge:
Shop OO Gauge or Shop N Gauge

Shop All